10 Kitchen Organizers You Can't Live Without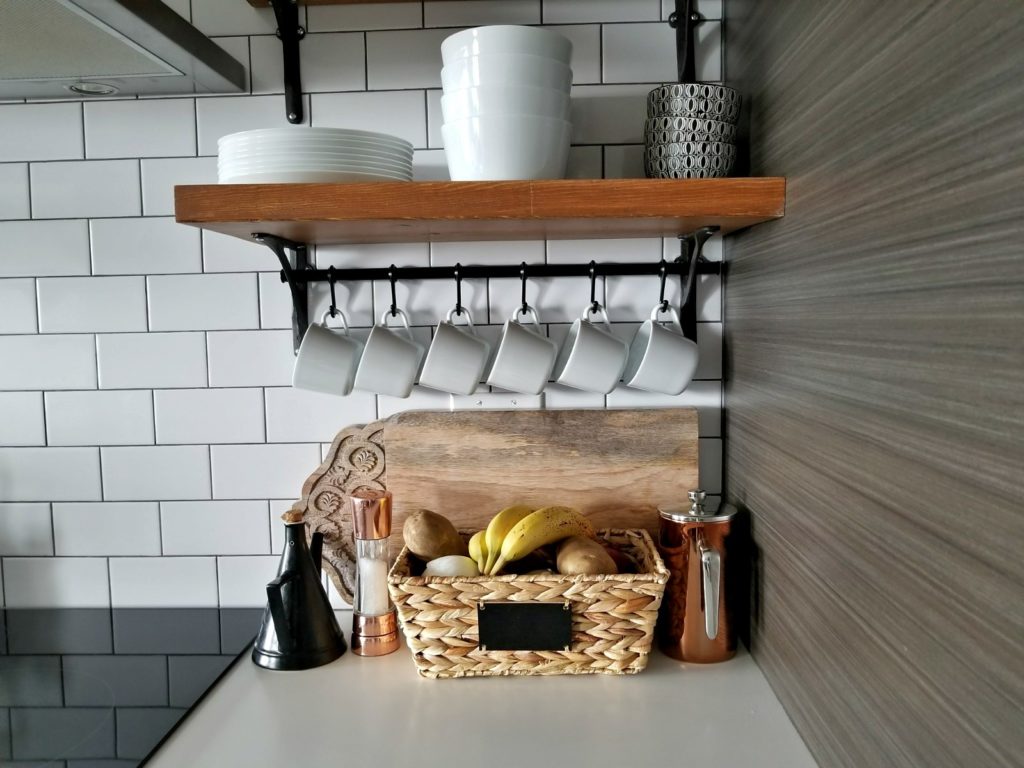 Regardless of the size of kitchen you have, you'll always need kitchen organizers to make cooking and storing easier. I started looking into kitchen organizers when I realized my pantry was getting crowded, when I had to pray that my pot lids wouldn't fall out when I opened the cabinet door, and when my drawers looked like a war zone.
I didn't need to look very far to find the perfect kitchen organizers: the obvious winner here is Ikea. If you find some of the items to be too pricey, you can probably find similar organizers at stores like Walmart or Target.  
List of top 10 kitchen organizers
1. Lid organizers
These are total life savers. You'll never have to worry about tumbling pot lids again. You can use them to organize your pot lids, container lids, and even plates.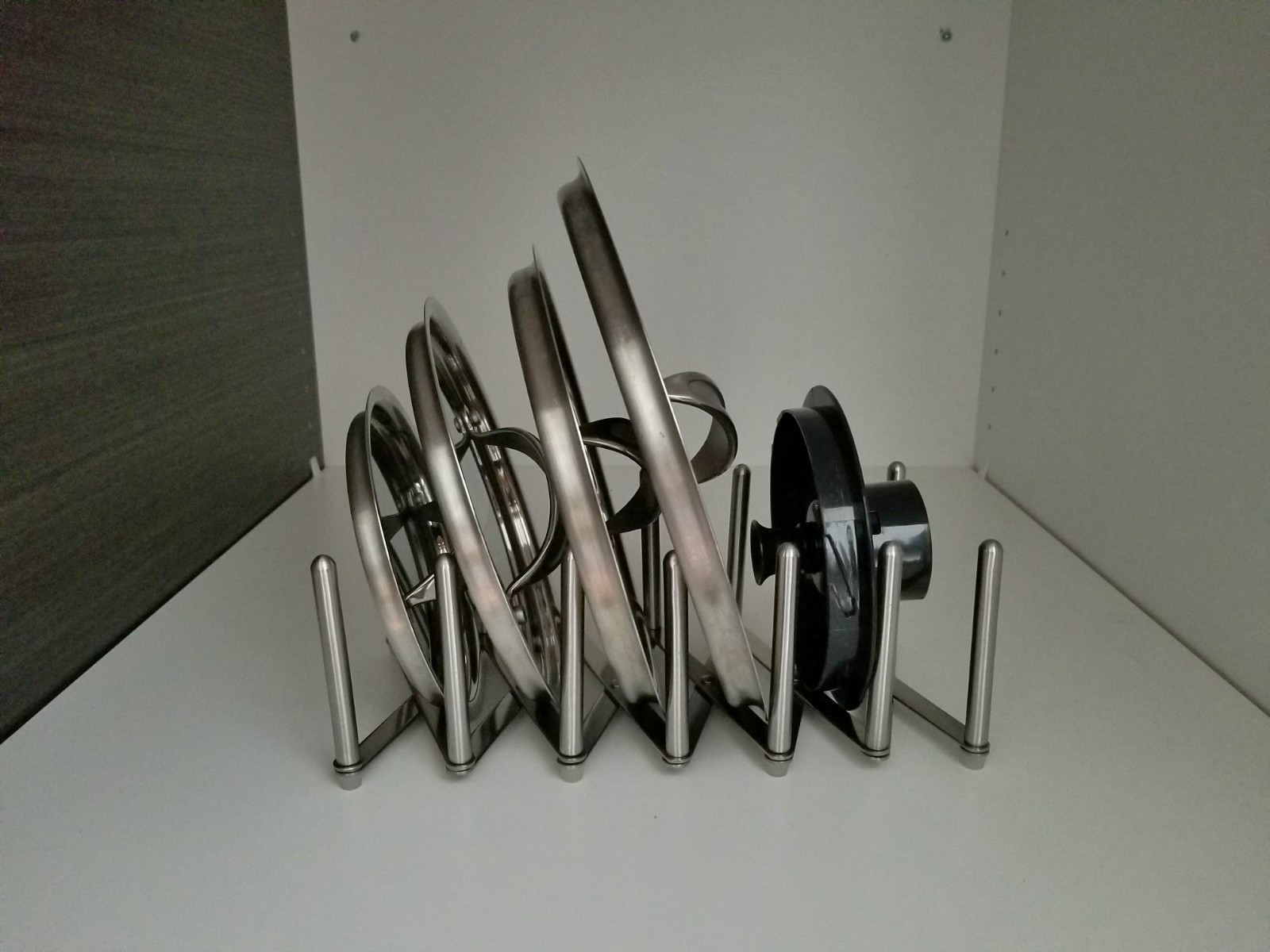 2. Drawer dividers
I bet you didn't even know these existed! I sure didn't, but boy am I glad I found them. You just need to measure the height and width of your drawers (which normally come in standard sizes) and choose drawer dividers that fit. Everything in your drawers will stay in place no matter how hard you slam the drawer shut!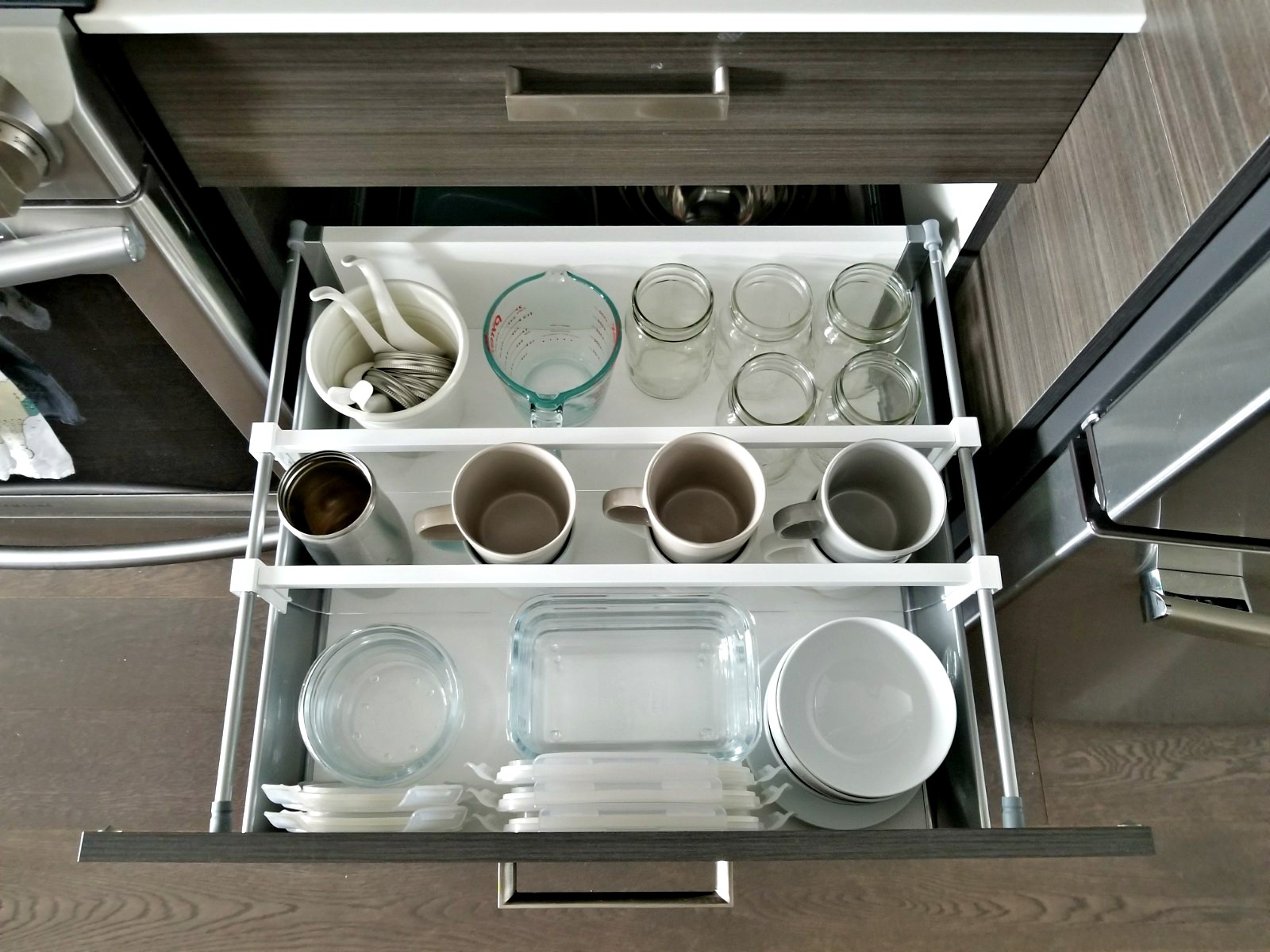 3. Pantry organizers

A quick and easy way to organize your pantry is to get a bunch of storage boxes. You can group similar food items together: you can have a box for your snacks, one for your spices, one for canned goods, etc.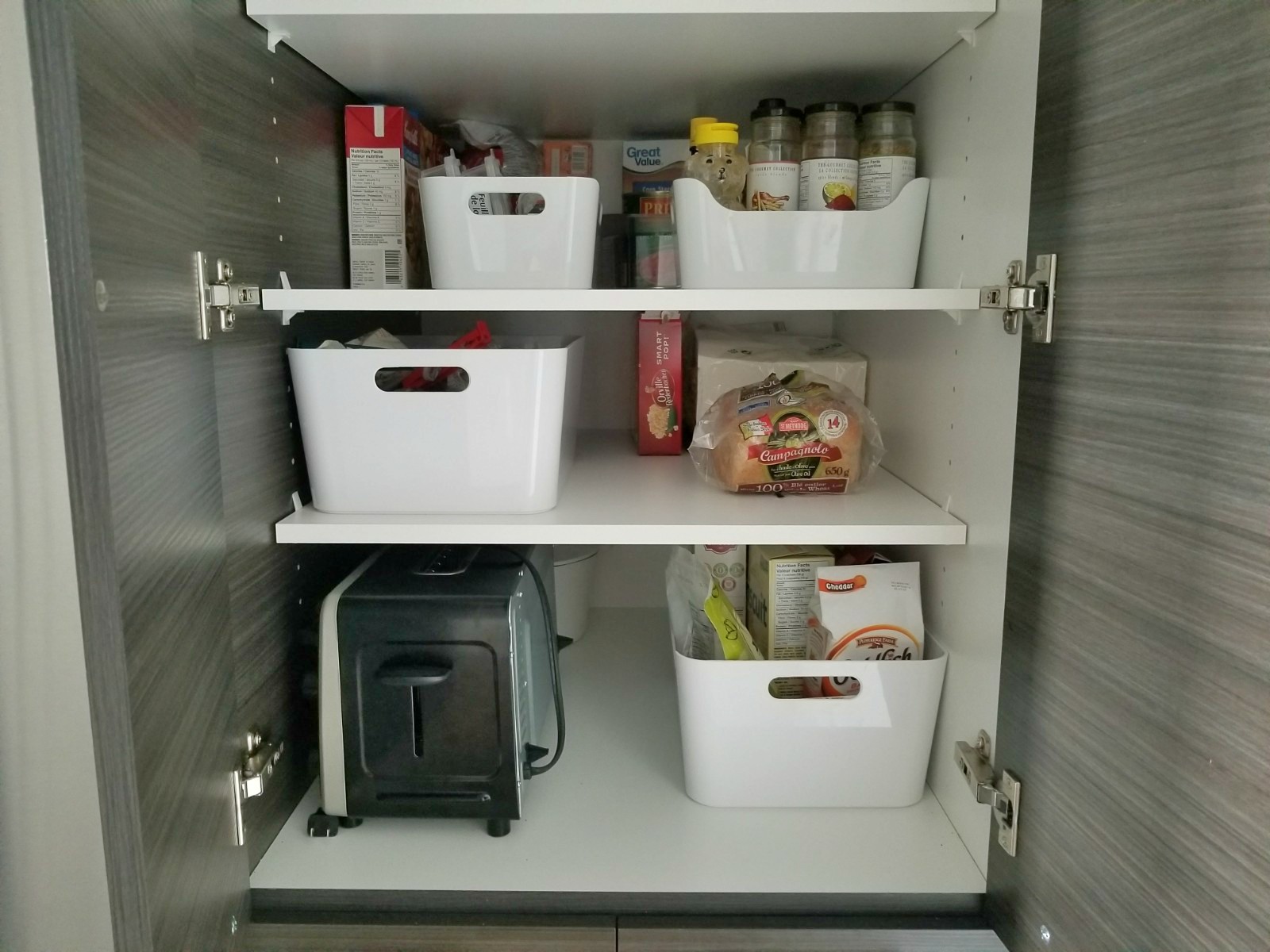 4. Utensil organizers
This is something most people already have. But just in case you don't, it's one of the most convenient kitchen organizers out there. Ikea has wooden utensil organizers, plastic ones, and even ones that are especially made for knives.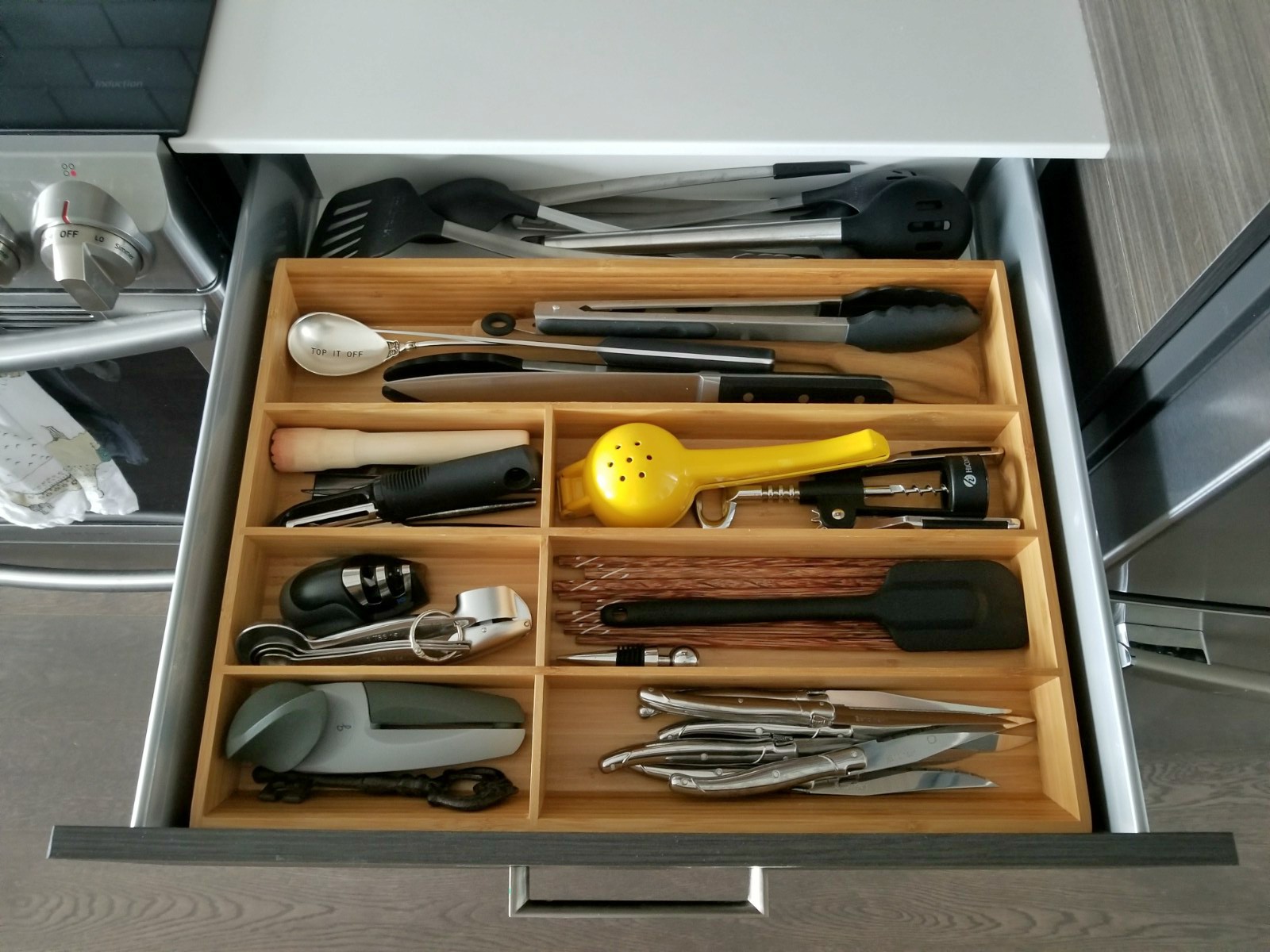 5. Mug hangers
A nifty way to store (and display) your mugs is to get a kitchen rail with hooks. You can drill the rail directly into the wall and hang your mugs with the hooks. I didn't have to drill mine into the wall because I was able to perfectly rest the rail between my shelf brackets.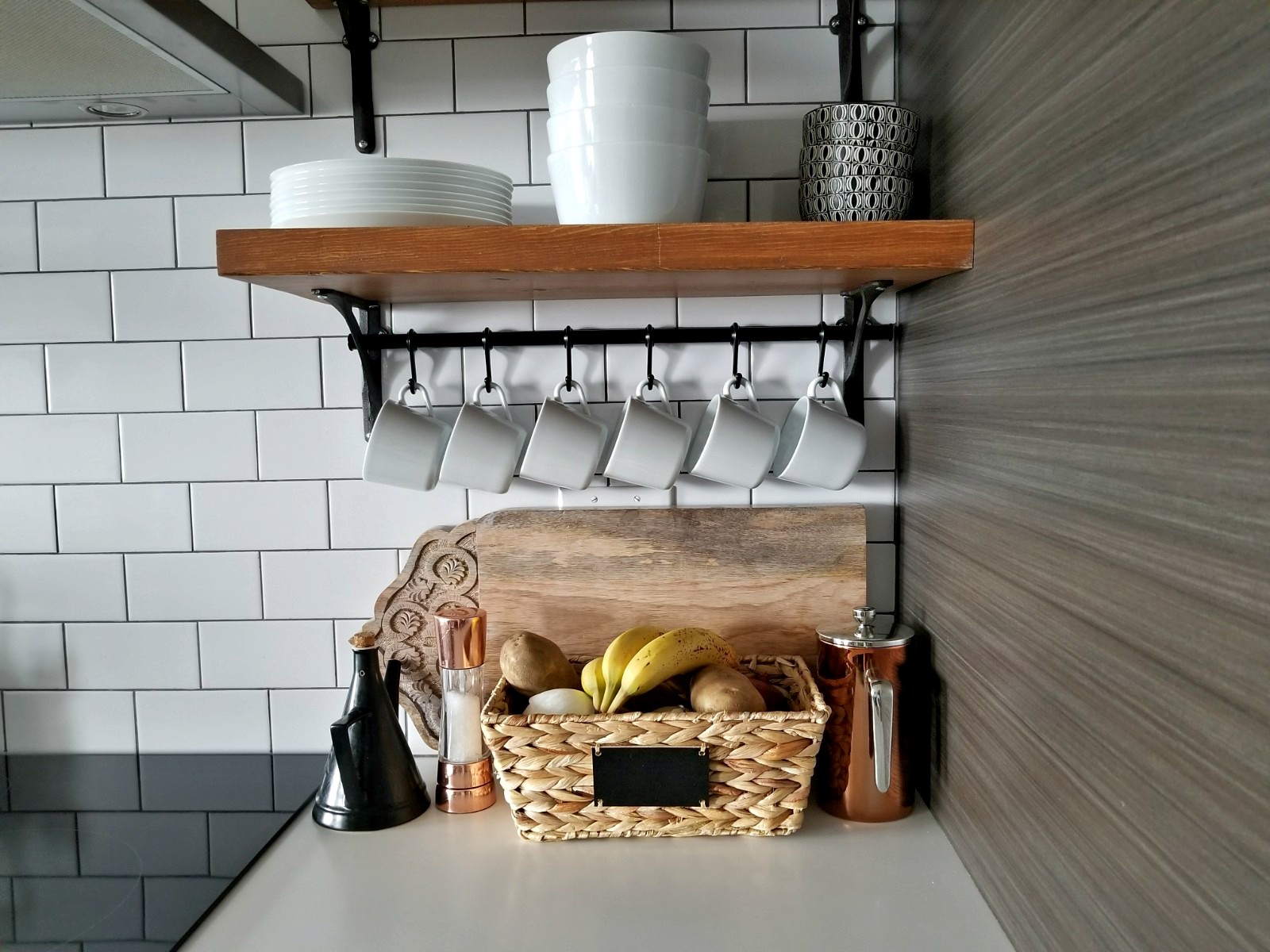 6. Command hooks
If you're not using these already, it's time to start. They're so convenient and they don't require any drilling. Use them to hang your dish towels, oven mitts and whatever else you can think of under the sink.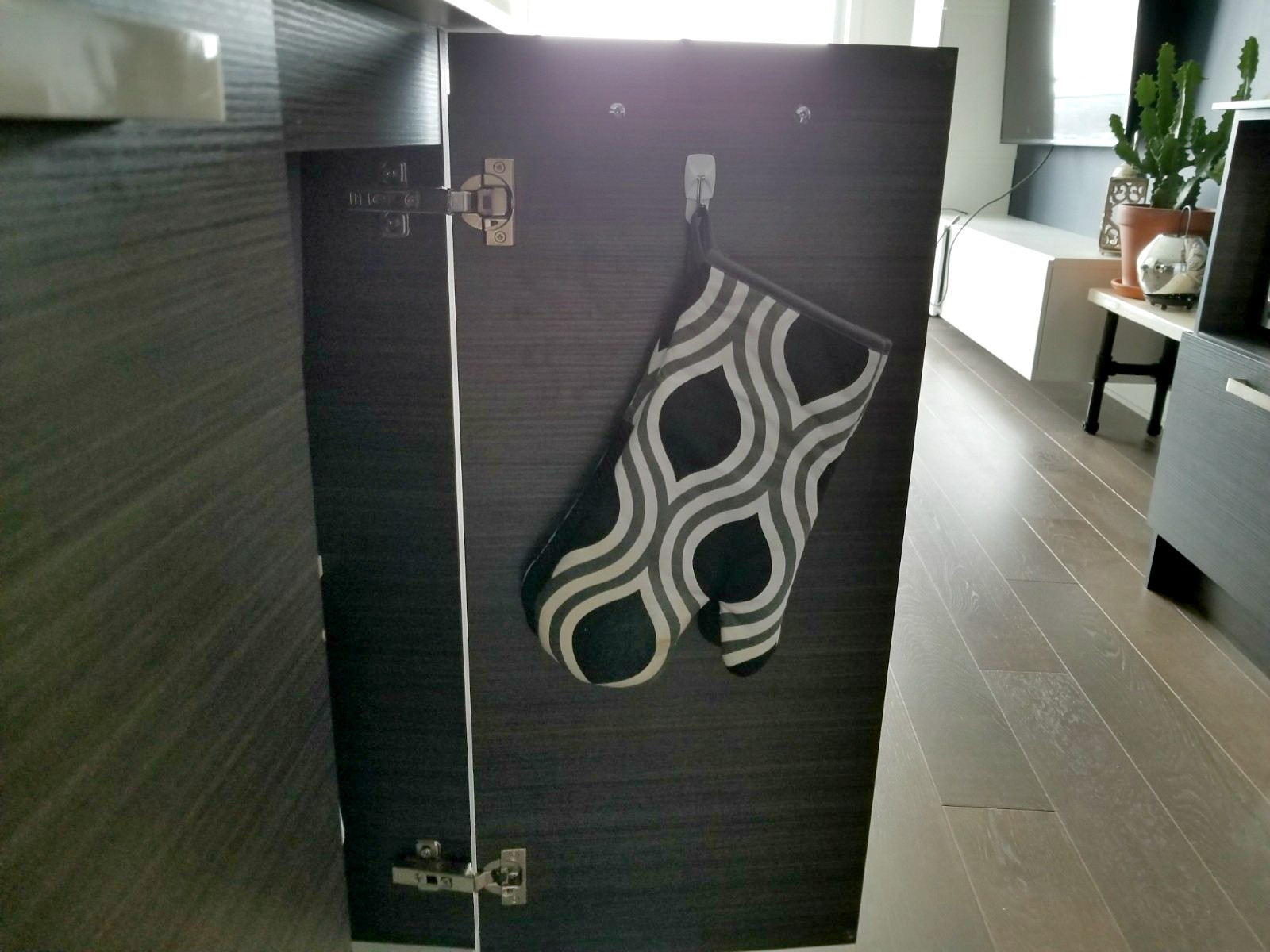 7. Shelves under sink
We were lucky enough to have these installed before we moved in, but it wouldn't have taken much to do it ourselves. If you install these small shelves, you'll be able to use the vertical space under your sink (we have a garbage disposal system under the sink so this was an absolute must for us).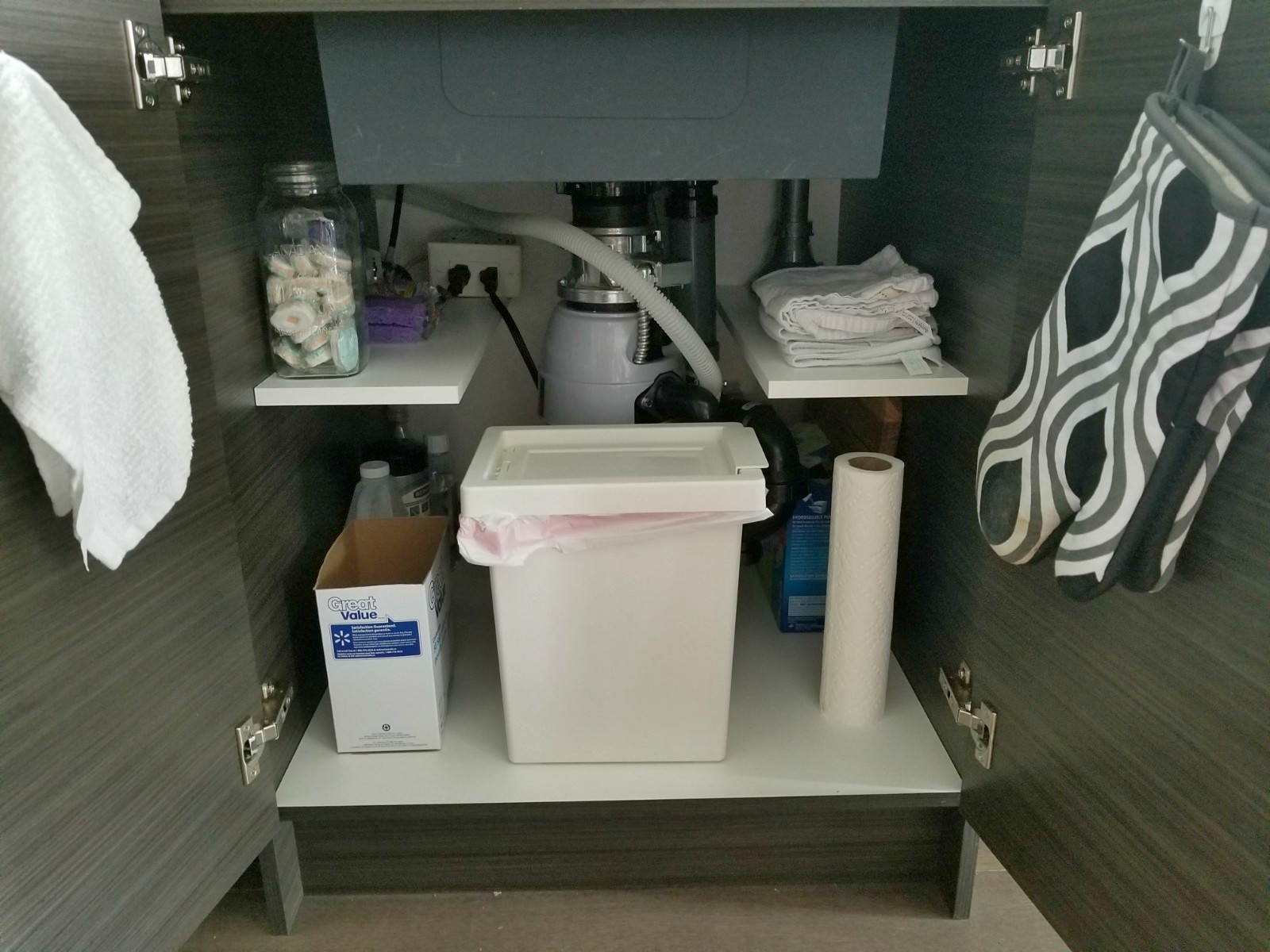 8. Stackable pots
If you're going to buy pots, make sure you buy them in a set. Generally speaking, sets of pots are stackable so you wouldn't have to place them side by side.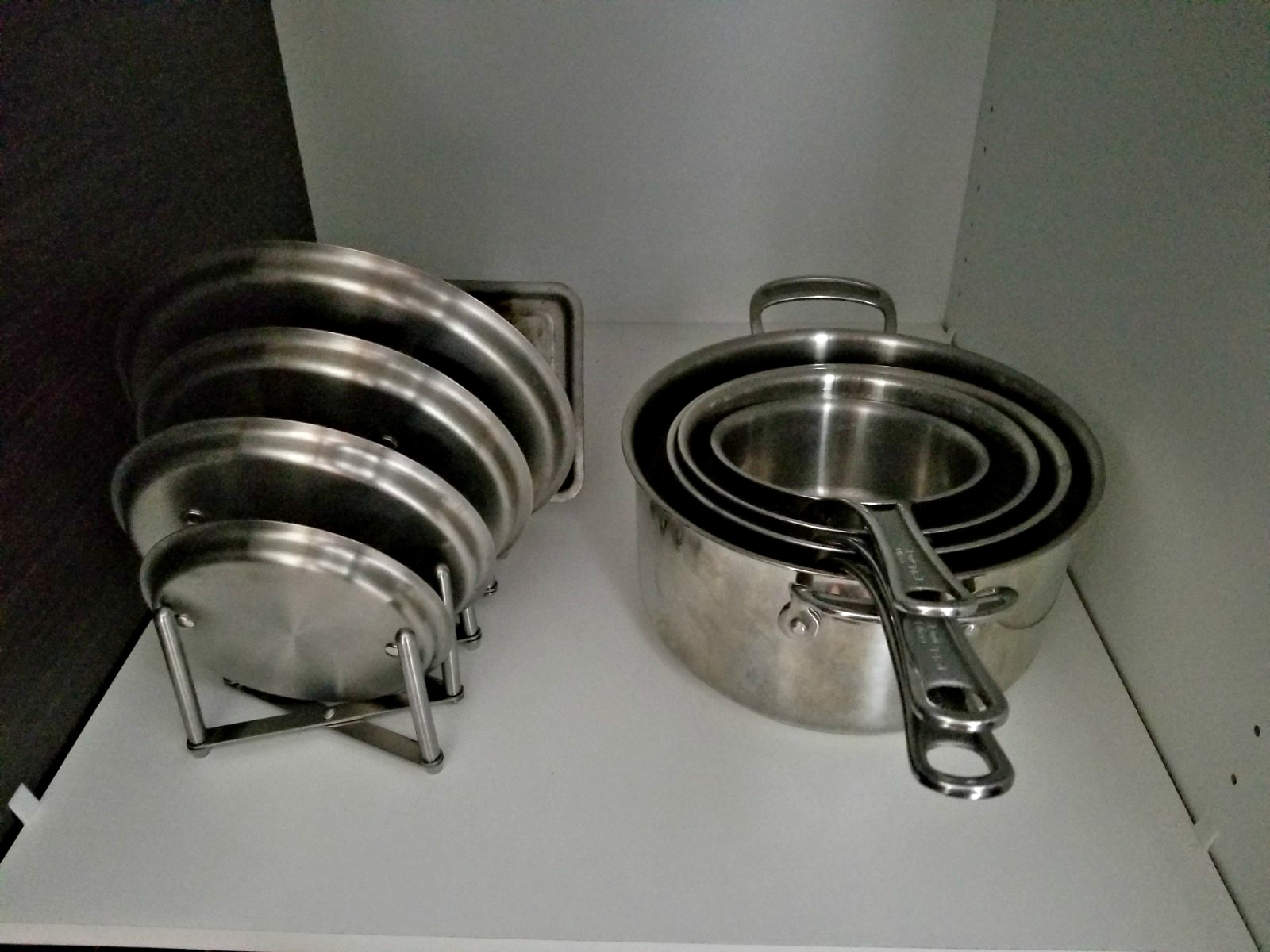 9. Utensil holder
Traditionally, you would store your utensils in a drawer. But screw tradition, right? Why not store them in a utensil holder instead? Do you know how much time I save by not having to sort all the knives, spoons and forks after every wash? Trust me, it's the way to go.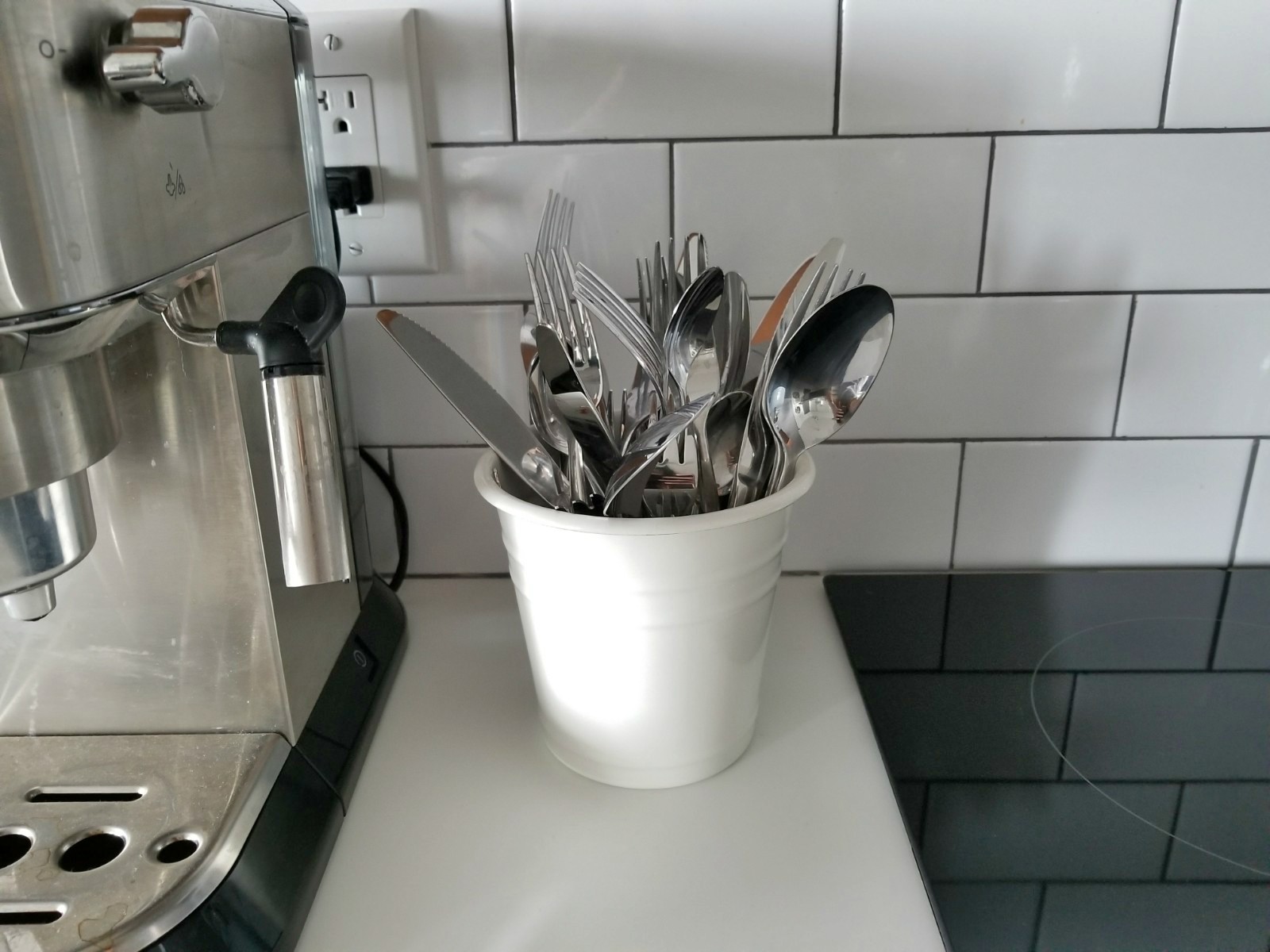 10. Open kitchen shelves
If you want an organized kitchen, then you should opt for open kitchen shelves. You can't place things haphazardly because your mess would be out in the open. By having open shelving, you're forced to return everything to its rightful place.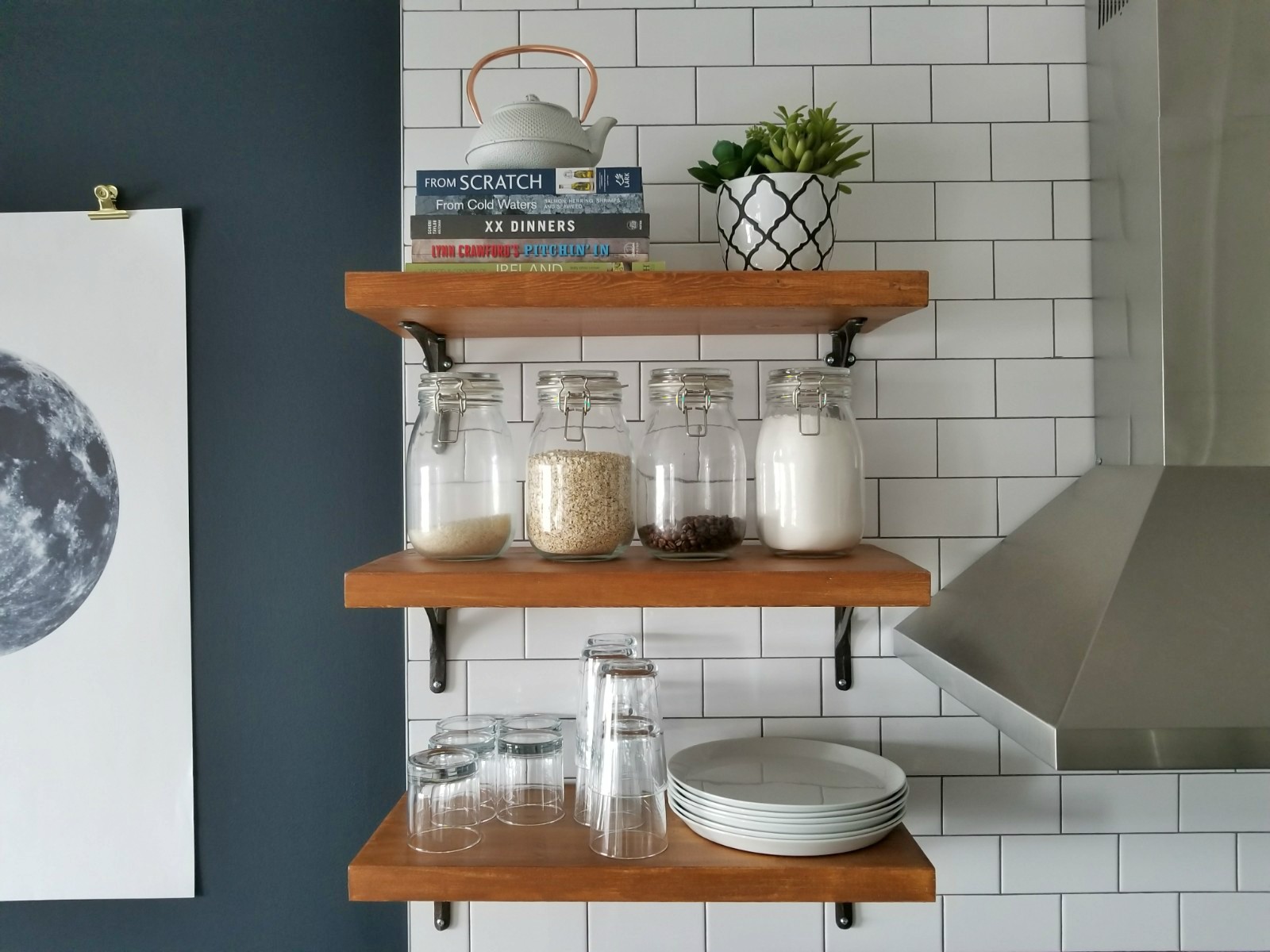 Want more design tips?
5 ingenious storage ideas for small spaces
6 small space furniture ideas for your apartment